CA & SCID clear
X-Rayed (OCD) without markings
Half sister (on the dam line) to Muhaarib-Al-Muluk by Marajj and Tuscany BP by Versace.
GAZALS SERINA is one of those truly incredible individuals that come along once in a lifetime. With her beautiful dished face, big black eyes, and correct conformation GAZALS SERINA is one of those sought after Gazal Al Shaqab daughters, and when the opportunity to purchase her was presented to Heartfall Arabians we knew we had to add this incredible mare to our breeding program.
GAZALS SERINA is sired by GAZAL AL SHAQAB who certainly needs no introduction in the Arabian horse world. Worth mention is that GAZAL AL SHAQAB'S Grand dam, EDJORA was bred by the famous Swedish breeders Wilkesbacka Gard. She was exported to Lloyd Bryant, US 1978.
Gazals Serina's dam BINT SACARINA has been a precious broodmare at Birch Park Arabians, US for many years. BINT SACARINA has been an incredible producer and has constantly given her foals her table top back, long shapely neck, and beautiful face. In other words, lived up to her name as a pure Golden Cross mare. Golden Cross means Straight Egyptian (multiple World and National Champion, SIMEON SHAI) bred to Straight Spanish (SACARINA, bred by the Spanish military and imported to the US by Brumarba Arabians). SACARINA is by JACIO, bred by Yeguada Militar, Spain. He was a leading stallion at the Yeguada Militar, personified extreme Arabian type and refinement. To his offspring, he passes on superior head type, overall smoothness, balance and beauty. Many of his famous sons (GG SAMIR) and daughters have won Spanish, European and World Championships. JACIO is by TABAL, who is the sire of world famous ESTOPA!
GAZALS SERINA has a very powerful pedigree that compliments the top sirelines and damelines of today extremely well!
Leased to Sweden Arabian Stud for a 2016 foal!
Results
2012 - Silver Champion and class winner at C-show Arabian horse in West at Munkedal
2007 - Top five Las Vegas World Cup yearling filly
Progeny
---
(Tristin BP x Gazals Serina)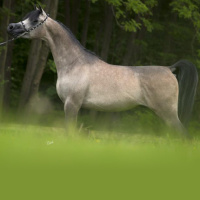 ---
(Magic Magnifique x Gazals Serina)
---
(Magic Magnifique x Gazals Serina)