We find the Arabian breed to be the most noble horse in the world. During the years we have carefully developed a breeding program, built on international quality bloodlines for today's show, breeding and performance scenes. Sustainability, knowledge and consideration are key premises to our business.
We started the stud in 2008. Our breeding program is built from daughters and grandchildren of the three important stallions GAZAL AL SHAQAB, WH JUSTICE, VERSACE. They are all chosen for their strong dam lines and outstanding impact on the modern Arabian horse breeding.
We are happy to have had two Gazal Al Shaqab daughters as foundation mares at our stud. GAZALS SERINA (Gazal al Shaqab - Bint Sacarina/Simeon Shai) we imported from the US in 2010. "Serina" is bred by Kevin and Bill at Birch Park Arabians. For us, Serina is the reason to breed Arabian horses. Her beauty is almost impossible to capture on a photo and her horsenality is just what you can expect from these dessert queens. Gentle, loving, intelligent, with a fire in her soul! Serina is the dam of H.F SANTIAGO DE MAGNIFIQUE. "Serina" was sold to Sweden Arabian Stud 2016, where they have continued this already proven successful combination of "Santiago", who is the big brother of three full siblings.
Photo of Gazals Serina. Photo credit: LS Photo & Design
Our second Gazal al Shaqab daughter was LL GIZA (Gazal al Shaqab - Parys Creation/RGA Kouress). We got the opportunity to have the famous RGA KOURESS bloodlines in our breeding program, thru her beautiful granddaughter Giza. LL Giza is the dam to our H.F KATJA KOURESS - National Bronze champion as a yearling.
Photo of LL Giza. Photo credit: LS Photo & Design
We are grateful for "Katja", the first filly we got after four years of breeding and having colts only. LL Giza was sold back to the US in 2016 and we are especially glad to have her beautiful daughter Katja staying in our breeding program, carrying some of the best bloodlines we know.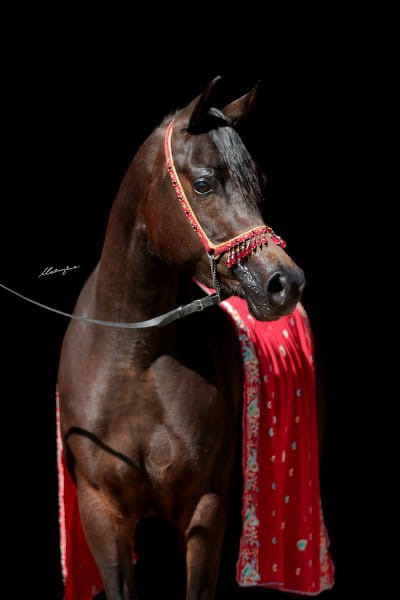 Photo: H.F Katja Kouress
Latest addition to our Gazal al Shaqab family is AJ YSABELLA (Shael Dream Desert – Ysadora/Marwan al Shaqab).
This exquisite daughter of SHAEL DREAM DESERT (sire of the beautiful white mares FT Shaella, Felicia RLC, Heila J and Bruma Bahamas, amongst others) boasts not just an amazing blend of Ansata Halim Shah and Hadidi from her sire line, but also a truly amazing damline.
Her dam YSADORA, the dam of AJ Azzam (GOLD CH. at PARIS 2015 - YEARLING COLTS CHAMPIONSHIP), AJ Nurai and AJ Ezam, is a precious daughter of Marwan Al Shaqab. Her pedigree blends and is mixed with some of the best lines, all the way to double Ruminaja Ali lines.
AJ YSABELLA is a mare with all the important qualities of a brood-mare. "Bella" has an exceptional attitude and floating movements. She will play an important part in our breeding program.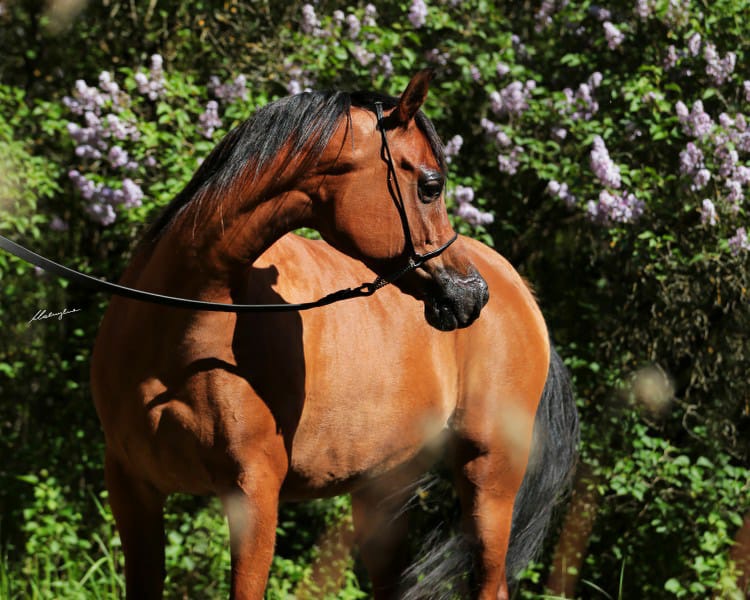 Photo of AJ Ysabella
2015 was an expanding year for us and we added both WH Justice and Versace bloodlines to our breeding program.
We leased the mare ML Joanetta (Joani/WH Justice – Wanetta) from Norrskens Araber and bred her to the multi champion stallion Burj al Arab (WH Justice – Pamira bint Psytadel). 2016 this breeding combination resulted in H.F JOSEPHINE, a feminine and correct filly. "Jossi" is everything we hoped for in a line breeding on WH Justice - choosen for his strong dam line. "Jossi" will in a near future be both a show and brood-mare for us.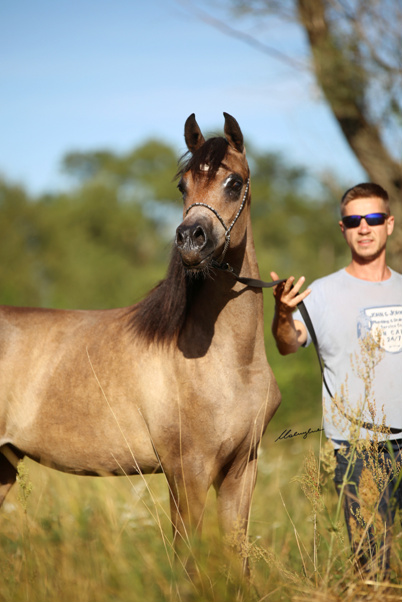 Photo of H.F Josephine. Photo credit: See tag on photo.
Last but not the least, in our breeding program presentation, is the VERSACE bloodline. Versace is one of the most influential Arabian stallions of all time. Versace's sons and daughters, except for being outstanding beautiful, are winning both in performance as well as in the show ring. His offsprings are famous for their ability to also produce sons and daughters, who go on to produce champions of their own.
Therefore we couldn't resist SIENA BELLINI (Tuscany BP/Versace - Bint Sacarina) - Casino Royale/Vivegas). That she also have the same dam bloodlines as Gazals Serina- Bint Sacarina is also important to us. Siena will be a future breeding mare at Heartfall Arabians. We are over the moon to have this 3 times Versace filly to add the Versace bloodline to our breeding program.
Photo of Siena Bellini. Photo credit: Chris Lowe
Working hard to achive our goals
2008 we were at the World Championships in Paris. There and then we decided our first breeding goal: 10 years from now we shall have bred a horse worthy entering the World Championships. We are glad to say it only took six years until we stood in the ring of the WC with our yearling colt, H.F SANTIGAO DE MAGNIFIQUE.
"SANTIAGO" had a great show career in 2014. National and International Silver Champion several times. Best bred colt in Sweden 2014, top five in the European Championship 2014 and so much more.
At the WC in Paris 2014, "Santiago" was top 10, with the same points in the class as the junior stallion bronze champion. Exactly the same end points! Even more remarkable was that this young son of Gazals Serina had the highest points for moving male the whole day. We were standing in the collecting ring awaiting the prestige prize Best Movements Male, when the last stallion for the day, 13-year-old Rohara Baccara beat our colt with only one point in the last minute! ONE POINT! That was such a proud moment, even though we didn't get the prize. H.F Santiago de Magnifique is now sold to the KSA where he has continued his successful show career and is a proven sire!
Photo of H.F Santiago de Magnifique.
Through our family stud farm, we have managed to create an everyday life filled with joy, hard work and lots of love built on our key words: sustainability, knowledge and consideration.
These magnificent Arabians horses have given us the possibilities to travel and make connections all over the world. We cherish every moment, every person and every event the horses has and will bring in to our lives. As a small family business, we have as an important goal to create long lasting, strong relationships with all our clients and co-workers.
For us it's an honour and a privilege to be a breeder and owner of Arabian horses. We hope we can share these privileges with You one day!
Always the Best,
Wilda & Lasse